XZATA MUSIC International Recordlabel And DJ Agency
Xzata Music is an independent record label that sells musical content through digital platforms, provides promotional activities and delivers talented artists to the biggest festivals. It was founded in 2015 by Dutch DJ / Producer Michaël de Jong (Michiel) alias Xzatic. Our music is being played and supported by the biggest artists & radiostations in the EDM scene / DJ Mag Top 100 DJ's  & featured  in media & magazines worldwide. Check out our Airplay & Support list below or click here for our DJ Support Section or here for our Media Support Section!
"Our mission is to deliver high quality music from upcoming and leading artists by offering a digital platform and providing promotional activities" .
XZATA = OUTSTANDING
We not just deliver music, we deliver it to the biggest artists (e.g. DJ Mag top 100 DJ's), radio stations, end-users & customers. We are determined to guarantee the highest possible standard. Our desire is to deliver a final mastered audio file with outstanding professional sound. Therefor Xzata Music works with industries best mastering engineers, working for wellknown recordlabels.  All tracks are fully mastered with advanced equipment and mixing techniques.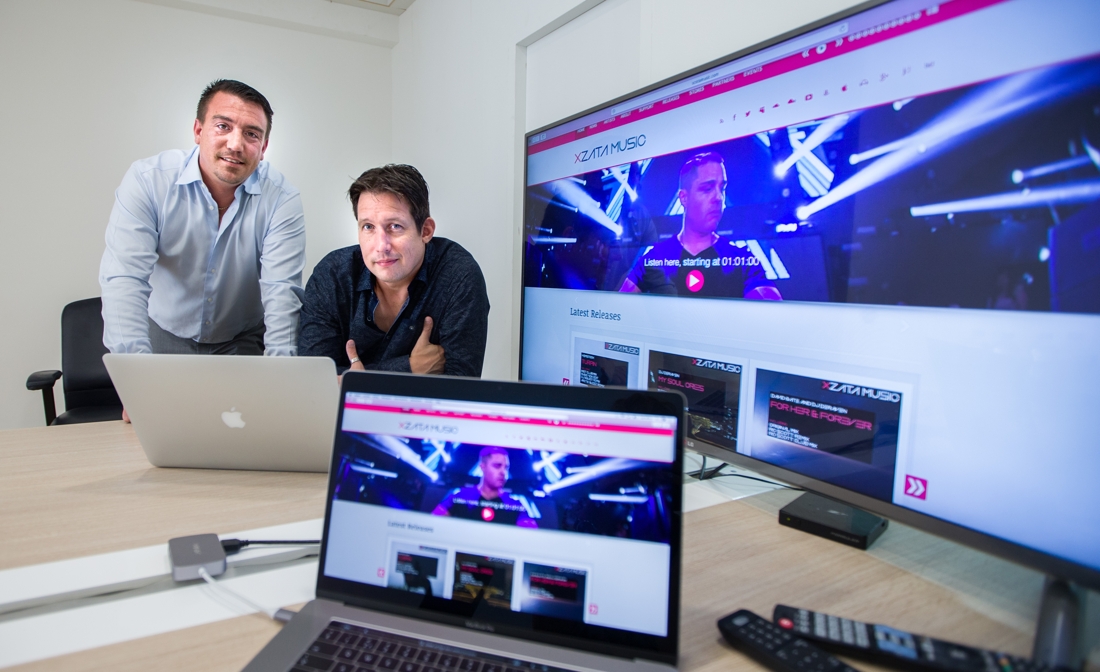 Bram Savelkoul (Left), Booking Manager & Michiel de Jong (Right), Managing Director Xzata Music / DJ Xzatic
Romy Janssen, A&R Manager Xzata Music
Airplay & Support (DJ'S):
Armin van Buuren, Paul van Dyk, DJ Feel, Mark Knight, Ben Gold, DJ RAM, DJ Reorder, Paul Oakenfold, Solarstone, DJ Lange, Ferry Tayle, Eddie Halliwell, Standerwick, Judge Jules, Andy Moor, Davey Asprey, DJ Guy Alexander, DJ Madwave, Allen Watts, Johann Stone, Johan Gielen, Maarten de Jong, Arctic Quest, DJ Xquizit, Ahmed Romel, Roman Messer, Ivan Mateluna, Dennis Sheperd, Colonial One, Arnej, Airbase, Robert Vadney, Alex van Reeve, Bruce Cullen, Der Mystik, Eddie Sender, Elof de Neve, Paul Nova, Nicholas Bennison, Manuel Le Saux, Ron van den Beuken, Joop, Taj Valdespino, Saint Rush, Suzy Solar, Stuart Millar, Barry Rooke, Grant Steve, Osvaldo Nugroho, Richard Campbell, Cliffy Burrows, etc.
Xzata Music & Michiel featured in the following media:
A state Of Trance, DJ Mag, Vonyc Sessions, Global Warm Up, Pure Trance, Radio Hitec, Wij Limburg, Omroep Helmond, Omroep Zeeland, Omroep Landgraaf, Radio Waddinxveen,
AH.fm, crystalclouds.com, di.fm, trancesound.net, ilovetrance.com, www.themovement.in, www.djmagitalia.com Nu.nl, De Telegraaf.nl, Shownieuws.nl, De Limburger, VIA Limburg, TVGids.nl WijLimburg, etc
Full media support list: http://www.xzatamusic.com/artistgenre/media/
We are always looking for talented dj's / producers and promoters for our label.
Send demos to: demos@xzatamusic.com
Questions in general: info@xzatamusic.com
Team Xzata Music.